Medication Assistance Program
Need help? Beacon Charitable Pharmacy can help with our medication assistance program. Schedule an appointment today and see how we can help.
What medications does Beacon offer?
Beacon Charitable Pharmacy has an extensive formulary of medications and uses primarily donated medications. Click the button below to download a full list of medications we offer. The medications listed are often available, but we have may limited supplies. Beacon does NOT stock any controlled substances such as Oxycontin, Percocet, Tramadol, or Vicodin.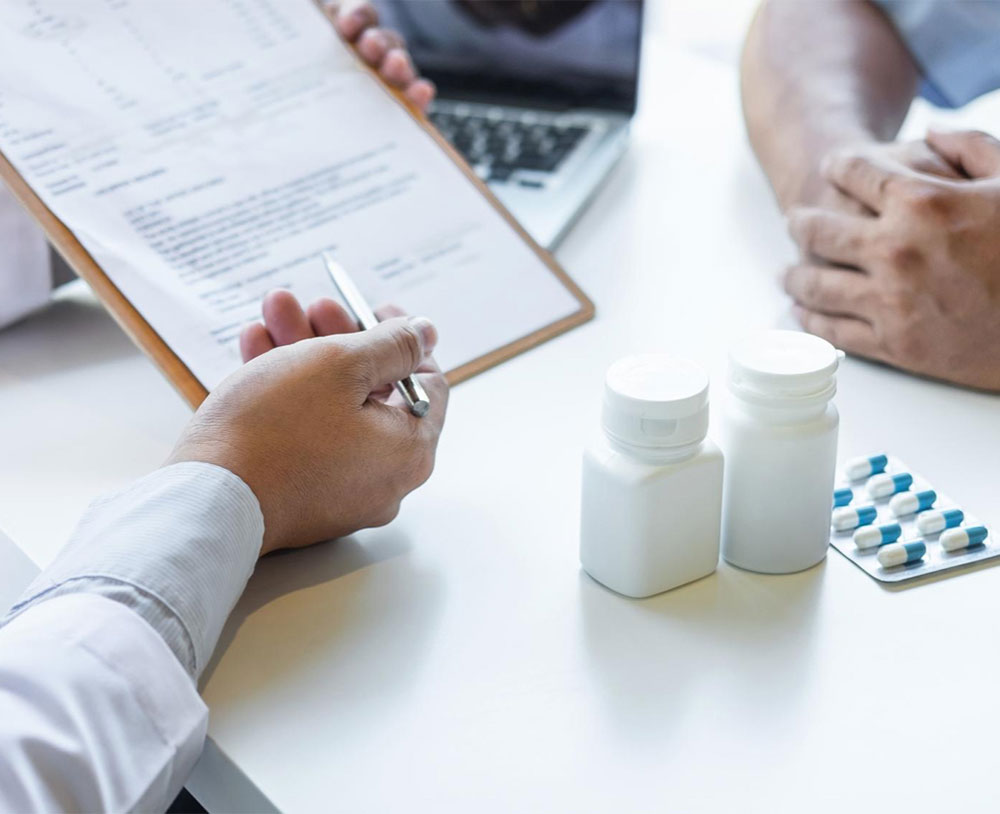 How do I qualify for Beacon's medication assistance program?
Patients must have a current prescription from their physician. If you need a physician, see our list below for available options.
Patients must be uninsured or underinsured.
Patients must live in Stark or Carroll County.
Patients must be at or below 250% of Federal Poverty Guidelines. ( outlined below).
How long am I covered?
Beacon provides services for one year. After one year, you may re-enroll for continued service.
What should I bring to the appointment?
Income verification for all household members – at least 2 paystubs for each member and the most recently filed tax return.
Photo identification and verification of address if not the same as what is on the Photo ID
Social Security card.
Red, white, and blue Medicare card
List of all monthly household expenses if insured
Documentation if you are in the donut hole (coverage gap)
All prescriptions for which you're seeking assistance, including, medicine bottles. You must have current scripts or refills available.
How much will I pay?
UNINSURED DONATION FEE
| | |
| --- | --- |
| 1 medication | $2.00 |
| 2 medications | $4.00 |
| 3+  medications | $5.00 |

UNDERINSURED FEE
| | |
| --- | --- |
| 1 medication | $5.00 |
| 2 medications | $10.00 |
| 3 medications | $15.00 |
| 4 medications | $20.00 |
| 5+ medications | $25.00 |
No one is denied service because of an inability to pay.
2023 Poverty Guidelines: 48 Contiguous States
Excludes Alaska and Hawaii
| Household/Family Size | 250% |
| --- | --- |
| 1 | $36,450 |
| 2 | $49,300 |
| 3 | $62,150 |
| 4 | $75,000 |
| 5 | $87,850 |
| 6 | $100,700 |
| 7 | $113,550 |
| 8 | $126,400 |
| 9 | $139,250 |
| 10 | $152,100 |
| 11 | $164,950 |
| 12 | $177,800 |
| 13 | $190,650 |
| 14 | $203,500 |
Access Health of Stark County
408 9th St SW
Canton, OH 44707
330.437.3715
www.accesshealthstark.org
Coordination of referral to Volunteer Physicians and Medical Services
Alliance Family Health Center
1401 S. Arch Ave. Suite A,
Alliance, Ohio 44601
330.249.7011
Mastroianni Family Center
110 W. Cambridge St.
Alliance, Ohio 44601
330.428.7855
www.alliancefamilyhealth.org
Hours may vary, call for an appointment
Primary Care and Women's Health
Cleveland Clinic Mercy Health Center at St. Paul Square
1459 Superior Ave. NE
Canton, Ohio 44705
330.588.4892
www.clevelandclinic.org
Hours:
Monday, 8:30am-5pm,
Tuesday 9am-4pm,
Wednesday 7:30am-4pm,
Thursday 9am-5pm,
Friday 7:30am-6pm
Lifecare Family Health & Dental Center
2425 Lincoln St. E Canton, OH 44707
408 9th St SW Canton OH 44707
820 Amherst Road NE Massillon OH 44646
330.454.2000
www.lifecarefhdc.org
Hours: Monday – Friday, 8am – 4:30pm, walk-ins by availability if previously registered
Faithful Servants Care Center at Refuge of Hope
715 Second St. NE
Canton, Ohio 44704
330.495.7962
Hours: 4pm-8pm various evenings, By appointment only
www.faithfulservantscarecenter.org 
My Community Health Center
Canton office
2600 Seventh Street SW
Canton, Ohio 44710
330.363.6242
Hours: Monday-Tuesday 8am-5pm, Wednesday 8am-7pm, Thursday and Friday 8am-5pm
Magnolia office
10029 Cleveland Ave. SE
Magnolia, Ohio 44643
234.386.0306
Hours: Monday-Friday 8am-5pm
www.mycomhc.org
ONE Health at Good Samaritan Community Health Center
1390 South Arch Ave.
Alliance, Ohio 44601
330.821.3961
Hours: Monday-Wednesday and Friday 8am-5pm and Thursday 9am-6pm
"I have never been looked down on or never felt any judgement by Beacon. I appreciate the service, and highly recommend Beacon to anyone that is in need of assistance with their medications. I also am grateful for the flu vaccine that was provided to me. I would not have received it if it wasn't for Beacon."